Admission for Two or Four to the The Mapparium (Up to 50% Off)
Now's a great time to visit the iconic Mapparium – and save 50%!
"Few museum exhibits can say they turn the world inside out. And yet that's exactly what happens at the Mapparium, The Mary Baker Eddy Library's most famous sight. Its three-story-high stained-glass globe is emblazoned with a map of the world in 1935, meant to be viewed from the inside. After guests enter the globe through a gangway, glittering LED lights bring its bright, vibrant colors to life during a presentation on the history of ideas and their spread throughout the world. An accompanying exhibit, "The Mapparium: An Inside View," delves deep into the history of the Mapparium's conception and construction for the extra-curious. Another bonus: the acoustics of the globe make it a whisper gallery, meaning that visitors standing at either entrance can communicate with each other by speaking in a low voice or burping a message in Morse code."
About this Deal
$12 for admission for up to four ($24 value)
$8 for admission for two ($12 value)
The Mapparium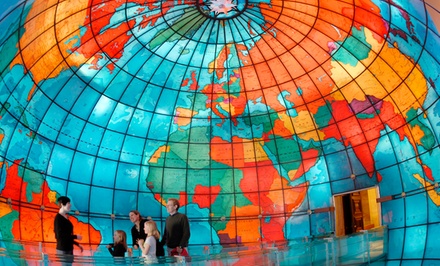 Admission for Two or Four to the The Mapparium (Up to 50% Off)
(The purpose of this blog is to share all the savings and awesome deals that I can find with all of you. To support the costs associated with this blog, I do have some affiliate relationships with companies that I feel are appropriate for my site. Links in this post may contain affiliate referrals. Read my disclosure statement for more information.)
Click here to purchase this deal from Groupon!
photo credit: Smart Destinations
More Like This…